Brazil's hidden coastal paradises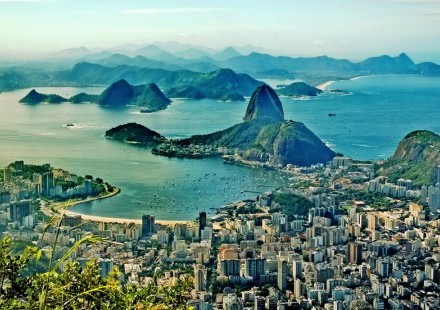 One of the most unique Royal Caribbean International cruises which sets sail just before the busy Christmas holiday season travels between some of Brazil's lesser known beach retreats. This five night Splendour of the Seas itinerary begins and ends at the nation's largest metropolis, Sao Paulo, and sails past the even more legendary Brazilian city of Rio de Janeiro.
However, a number of far more tranquil islands and peninsulas lie in between these two sprawling urban landscapes. Búzios, Angra dos Reis, and Ilhabela have long been popular weekend retreats for affluent residents of Rio de Janeiro and Sao Paulo. Growing numbers of foreign visitors have also discovered the hidden delights within these particular areas, especially since the increasing popularity of Brazilian cruises.
The Splendour of the Seas is one of the most impressive vessels in the Royal Caribbean International fleet. The Atlantic coastline of Brazil is the winter territory of this ship which spends its summers sailing around Europe. Prior to boarding, however, passengers may wish to spend some extra time in Sao Paulo.
Brazil's biggest city may intimidate many first time visitors, but Ibirapuera Park is one of Sao Paulo's most tranquil landmarks. Visitors need never leave the park's boundaries to tour air force, folklore, or contemporary art museums. Ibirapuera Park also boasts many of Sao Paulo's most serene hiking trails and natural landscapes.
Passengers have over a day to fully explore the Splendour of the Seas prior to docking into Búzios. It's difficult to believe slave traders and pirates were the first Europeans who lived in this tranquil fishing community east of Rio de Janeiro. Nowadays, passengers will receive far warmer welcomes from Búzios residents happy to share this peninsula's rustic charm, lush plant life, and more than 20 virtually deserted beaches.
Thousands more secluded beaches are situated on the 365 islands of Angra dos Reis. Protected colonial constructions and crystal clear waters surround this historic city in the heart of one of Brazil's most beautiful areas, Costa Verde. One of the best known Angra dos Reis islands is Ilha Grande, whose Vivenda das Bromelias Inns art gallery is situated in what was once one of Brazil's notorious prisons.
The Splendour of the Seas sails past mansions and private islands owned by many of Brazil's richest and most famous residents on the way to Ilhabela. Boat journeys from the nearby city of São Sebastião are the only way to reach this 'beautiful island,' as its name means in Portuguese. Trails where tropical vegetation grow, mountains filled with green forests, and even more beautiful Brazilian beaches dominate this UNESCO Biosphere Reserve's landscape.
The return Splendour of the Seas voyage to Sao Paulo begins early in the evening and ends the following morning. Passengers will find plenty of ways to enjoy themselves during the final day of this unforgettable cruise. The Splendour of the Seas solarium boasts a state of the art swimming pool where passengers can swim or even enjoy a film screening. Two more unique attractions aboard this impressive vessel are an on deck rock climbing wall and the BRITTO art gallery.
Contact us
Payless Cruises Inc.
748 Broadway
Dunedin, Florida 34698
Call Us Toll Free 1-800-890-3731
Email Us info@paylesscruises.com