Google Street View Hops on Board of Royal Caribbean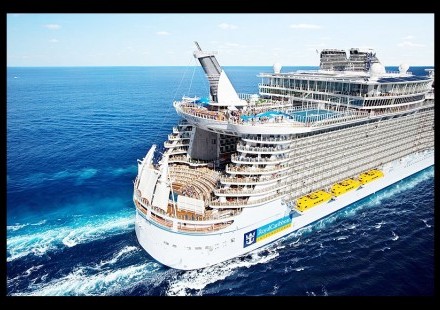 If you have experienced the feeling of disappointment when reality does not meet expectations, especially when your hard earned money is at stake, you should be excited to find out that this week Royal Caribbean said Stop the Madness and turn the Blind expectations into Great explorations with the first ever Google street view on a ship or shall we call it Cruise view.
Royal Caribbean took advantage of Google's Map Business View and became the first cruise line to offer interactive and immersive environment for those who search for vacations from the comfort of their own home. The company invited a Google photographer on board of Allure of the Seas to capture every angle of the ship. It took over 20,000 images and 8 days of shooting to create a virtual panoramic representation of the entire ship, the company said. You can receive a firsthand experience from the different "neighborhoods" that include Royal Promenade, the Boardwalk, the Aqua Theater, the Pool, the Sports Deck, restaurants and even the rooms.
Allure of the Seas is one of the Royal Caribbean's Oasis-class ships that offer seven "neighborhoods", the Broadway hit musicals Chicago and Hairspray, 3D movie theater, zip line, designer stores and more.
Currently the ship sails off of Fort Lauderdale, Florida and offers 5 and 7-night trips to Eastern and Western Caribbean. Starting in April 2015, Allure of the Seas will embark on a 12-night Ocean voyage to Barcelona, Spain and will return back to Fort Lauderdale in October 2015. While in Europe, the ship will offer 3, 5 and 7-night Western Mediterranean trips from Spain to Italy and back.
As of right now, it is still not clear if an actual Google map search will show the cruise ship or Royal Caribbean is using the technology for its own marketing purposes, but you can see the images HERE.
Contact us
Payless Cruises Inc.
748 Broadway
Dunedin, Florida 34698
Call Us Toll Free 1-800-890-3731
Email Us info@paylesscruises.com